A LEADER IN THE DESIGN OF CONFLICT MANAGEMENT SYSTEMS & PROCESSES
We Work to Effectively Resolve Conflict
About Us
David Gould (KC, CMed)
Leadership in the Mediation Field
For over 30 years David Gould has assisted businesses, lawyers, the Insurance Industry, the Energy Industry, Federal and Provincial Regulators and Agencies, Municipalities and First Nations and Metis Communities effectively resolve conflicts.
He is one of Western Canada's most experienced Mediators and Conflict Management Coaches with a focus on helping people and organizations get ahead and stay ahead of conflict.
Contact us to help prepare for your difficult negotiations and mediation of your conflicts.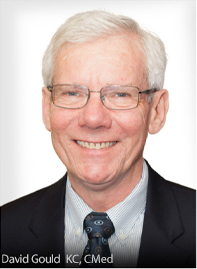 Bruce Churchill Smith, KC
David Gould collaborates with fellow mediator, Bruce Churchill Smith. Together David and Bruce have decades of experience helping people get ahead and stay ahead of conflict.
Resources from David Gould Mediation:

MEDIATION AND
CONFLICT COACHING
BLOG
Our blog is rich with valuable information accumulated through decades of experience.
From Conflict Resolution to Negotiation Tactics and Mediation Solutions, you will find a wealth of information here.

GUIDES TO PREPARE
FOR MEDIATION OR NEGOTIATION
Whether it's preparing your client for mediation or difficult negotiations, let us help to guide you along the way. These comprehensive guides help you prepare and manage expectations for a positive outcome.

CONTACT DAVID
GOULD MEDIATION
TODAY
We will help you navigate through stormy waters. We also offer a 30 minute complimentary session on how Conflict Management can help you.
Contact us at 403.801.0234