A LEADER IN THE DESIGN OF CONFLICT MANAGEMENT SYSTEMS & PROCESSES
We Work to Effectively Resolve Conflict
About Us
David Gould (KC, CMed)
For over 30 years David Gould has assisted businesses, lawyers, the Insurance Industry, the Energy Industry, Federal and Provincial Regulators and Agencies, Municipalities and First Nations and Metis Communities effectively resolve conflicts.
He is one of Western Canada's most experienced Mediators and Conflict Management Coaches as well an industry leader in the design of conflict management systems and processes.
Leadership in the Mediation Field:
David led the design team for the Appropriate Dispute Resolution programs for the Alberta Energy and Utility Board (AEUB) and the National Energy Board (NEB) providing internal training programs for their staff and mediating dozens of Industry/industry and industry/landowner conflicts across Canada.
David was one of the founders of Canadian Dispute Resolution Corporation (CDRC) and he has conducted hundreds of Insurance personal injury and coverage mediations.
In 2008, David collaborated with members of the Program on Negotiation at Harvard Laws School and chaired the roll out of the Global Negotiation Insight Initiative (GNII).
David has provided customized training programs and workshops in mediation and conflict management to public and private organizations.
David also helps people get ahead and stay ahead of conflict as a Conflict Coach
Many of his hundreds of interventions occurred in the late stages of the conflict after much of the damage had been done. While it is always better late than never, a prolonged conflict still causes stress, fractures relationships, erodes fortunes, and shatters parties' confidence in their future.
Recently David has created a Guide for Preparing for Difficult Negotiations to support Accountants, Financial Planners, Business Coaches and Family Enterprise Advisors to assist their clients facing potential difficult negotiation to avoid conflict.
He also created a Guide for Litigation Counsel to assist them to prepare their clients for mediation.
Read our testimonials and past project summaries.
Click here to view our availability and book a session.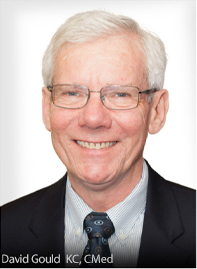 Bruce Churchill Smith, KC
David Gould collaborates with fellow mediator, Bruce Churchill Smith. Together David and Bruce have decades of experience helping people get ahead and stay ahead of conflict.
Resources from David Gould Mediation:

MEDIATION
BLOG
Our blog is rich with valuable information accumulated through decades of experience.
From Conflict Resolution to Negotiation Tactics and Mediation Solutions, you will find a wealth of information here.

GUIDES TO PREPARE
FOR MEDIATION OR NEGOTIATION
Whether it's preparing your client for mediation or difficult negotiations, let us help to guide you along the way. These comprehensive guides help you prepare and manage expectations for a positive outcome.

ONLINE BOOKING CALENDAR
Please use our interactive online calendar to book a session with us. We will follow up with a confirmation to ensure optimized efficiency.
You can also contact us at 403.801.0234